I love singing the Eagles fight song. It's one of the small things I appreciate about being an Eagles fan. Unfortunately, there is not a lot of singing in the City of

Brotherly Love

. Groans would be a better description of what it sounds like there. Pretty soon the sound will be silence if the stands reflect the way fans feel about this season. Why? Because Tim Tebow's Broncos have a better record than our Eagles. Because there is something incredibly wrong with our team. When it comes to winners and losers, I have to admit that today my team, the Philadelphia Eagles, look like losers.





Winner: Eagles vs. Cowboys



I

t was just a short while ago that the Birds were coming off of a bye week and we saw them on fire with a refreshed and renewed focus and determination to win. They were the awesome and amazing team we believed they were and every Eagle-manic was talking Superbowl again. There was great play on all sides of the ball as we stomped a division rival on our home field. The Eagles had just shy of 500 yards of total offense and the defense held the Cowboys to one touchdown for a final score of 34-7. We were definitely winners!
Loser: Helen's iPad vs. The Upgrade
I was beyond excited about the Eagles win over
Dallas
and had penned a prideful piece on my iPad. I took the necessary precaution of backing up my work prior to the big changeover to the iCloud. This was something I had been waiting for because I had anticipated cloud storage for a while. I'm always more excited about musing over a victory than a defeat. However, I was robbed of that pleasure when the upgrade was corrupted and I lost EVERYTHING! Luckily a lot of what was on my iPad was also on my iPhone, just not the article I'd composed. As much as I tried to recreate what I'd written, I couldn't. And that may have been the last win I get to write about for a while to come.
Winner:
Chicago
vs. Eagles
OK, I'll admit that the Bears look better than I expected and they are playing serious football right now. They came into
Philadelphia
hungry for a win. They pounced on the Eagles like they were picnicking in
Yellowstone
Park
. And our team definitely looked like they were out to lunch. Bears QB Jay Cutler looked more like Michael Vick than Michael Vick did! But they are a really good team and taking a loss from
Chicago
hurt, but not like it does when you lose to a bad team!
Loser:
Pennsylvania
The only thing that kept people from talking about the Eagles to
Chicago
loss in
Philadelphia
was the tremendous loss in the
Penn
State
scandal at
State College
,
PA.
The game losses for both Pennsylvania NFL franchises were invisible compared to the enormous losses the families and victims of the sex abuse allegations are dealing with. There was a dark shadow cast across the Commonwealth as the world descended on the small college town in the middle of the Keystone state to cover what looks to be the most horrific sports related scandal ever.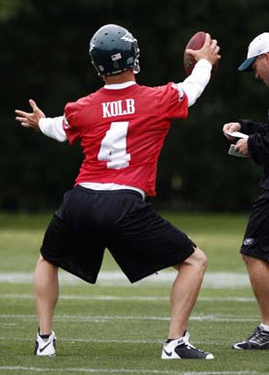 Winner: Kevin Kolb's Cardinal Karma?
Former Eagle QB Kevin Kolb may have been hurt but not as bad as Eagles fans after his new team beat his old team. Kolb didn't play in this game and was on the sideline with an injury. I couldn't help but wonder if he was having a déjà vu. Here he is again, an injured starter and his back up comes in and lights things up with an impressive and much needed win. Is this scenario his destiny? Will he be benched for a backup again? I'm sure it was great to taste a win against his old team but in the back of his mind, has he seen this episode before? Regardless, a win is a win. The Cardinals won this one and they have a better record than the Eagles too. So it looks like Kolb fared better in his new feathers.
Loser: The Eagles
As I sat there and watched, I couldn't help but wonder what happened to this team. It didn't look anything like the team we'd seen against
Dallas
. I don't even recognize our quarterback. He was a total stranger yesterday. I realize he didn't have all of his weapons on the field but this seemed to be beyond missing a key player in WR DeSean Jackson. Vick just looked like a stranger to me. Perhaps Atlanta Vick was there, I'm not sure. I just know it wasn't the guy who led the team to the playoffs last year. I did see more fire coming from the defense this week. Just not enough to secure a fourth quarter lead, against
Arizona
mind you. Blowing fourth quarter leads seems to be our thing this year since we've been out scored 74-27 in the fourth quarter and had a fourth quarter lead in four of the games we lost. Shameful.
Winner: LeSean McCoy
It seems as if RB LeSean McCoy is the go to person on this team now. He scored our one offensive touchdown in this game and set a franchise record of rushing for a touchdown in every game this season. He's the player that the rest of the football world is following in
Philadelphia
in terms of producing great numbers and results. And the word is that the front office is ready to reward him for that effort with a juicy contract. He's elevated himself into the company of backs like Adrian Peterson and Arian Foster with more rushing yards than both at second in the league for yardage behind
Buffalo
's Fred Davis. For a team that hasn't been known to run the ball a lot, he's brought a respect to the run game in
Philadelphia
.
Loser: DeSean Jackson
WR DeSean Jackson was missed in the game against
Arizona
. I have no doubt about that. I do doubt that his method as a disgruntled player is effective. He was benched for the game against the Cards for being late to a game meeting two weeks in a row. All of football knows
Jackson
wants a new contract and rightfully so. I am a bit surprised and also disappointed that the Eagles didn't reward him with one this year. Now it seems like that will most certainly not be the case as the ugliness of the situation has reared its little head. It doesn't do
Jackson
any good to be benched especially for something of this nature and it certainly doesn't help the cause of the team either. In my opinion, his benching brings to light so much about what is going on with this team inside the locker room.
Winner: NFC West
Last year the NFC West Division was won by
Seattle
with a 7-9 record. This year the West is much more of a power player in our conference with the 49'ers sporting an 8-1 record after defeating the Giants in week ten. The Cowboys and the Giants are out front in our division and now we have to consider the question of who is the worse team in the NFC East, the Redskins or the Eagles? As much as I'd like to, I can't with full confidence say that the Eagles are the better team. Our next opponent is the New England Patriots who got a bit of their swag back after dumping on their division rival, the New York Jets. A win against the Pats for the Eagles would only mean that perhaps we are better than the Redskins because the playoffs are about as much of a possibility as snow is in
Miami
. It's possible, but not likely.
Loser: Eagles fans
I bought the hype. I bought tickets. I bought new blingy NFL girl gear. I bought the idea of getting our first championship. I bought it all. I almost bought airfare to
Indianapolis
. But I decided to wait. And wait is what Eagles fan seem to do all the time. Of course I will still cheer them on for the rest of the season! It may even be fun to watch a spoiler game every now and then since we will propose a different kind of threat. I'm much too numb right now to think about what needs to happen for next year or even next week. For me, I'm just going to enjoy the sport of football for the rest of the season, win or lose with no expectations.
Helen "Love My Losing Eagles" Little